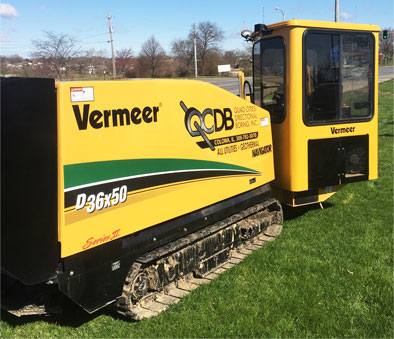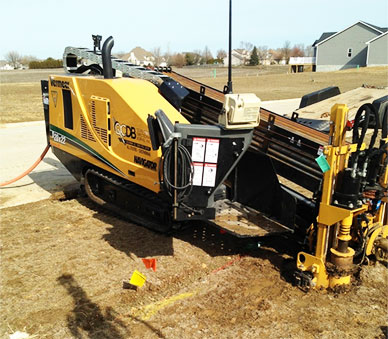 Horizontal Directional Drilling & Boring
Horizontal directional drilling (HDD) is a method of installing underground pipe, cable or conduit in a shallow hole drilled into the ground. HDD is utilized when it is impractical to use a trenching or excavating method. Directional boring and drilling can be used in the installation of the following:
Pipelines
Telecommunication lines
Power cables
Water pipes
Sewer lines
Gas lines
The installer will begin by drilling a pilot hole along the path. Once that line has been made, a second pass with a larger cutting tool called a back reamer will be done. The size of the hole will depend on what is going to be pulled back through the bored hole. Lastly, the cable or conduit will be placed in the bored hole and pulled through to the other side.
This method of laying down cables or lines helps avoid extensive disruptions to the area. No trench is dug, so it is a great option for environmentally sensitive areas, waterways, roads and congested areas. HDD is desirable because it costs less and takes less time than trenching, is less disruptive and is safer, environmentally.
Geothermal Horizontal Directional Boring
Geothermal heating and cooling systems are gaining popularity, as more people realize the benefits of a geothermal system, in addition to the tax credits that are available for installing it. There are benefits to utilizing a horizontal directional boring method over the vertical drilling method. The horizontal method also offers options and flexibility you won't find in the vertical method. One of the benefits occurs when you have existing landscape or structures to work around. The horizontal directional boring method allows the operator to install the geothermal loops and header pipes without disrupting the property, aside from a small area around the installer to finish connecting the circuits.
Horizontal directional drilling costs less than the vertical drilling method, and you also save on the cost of having to restore your landscaping or other areas around your property. After the work is done, there will be no visible signs that a geothermal system was installed.
Contact Quad Cities Directional Boring to learn more about horizontal directional drilling and its many applications. Our friendly and knowledgeable experts look forward to working with you on your next drilling or boring project.